Moonlight Madness is a multi-pitch rock climbing route on the 1,000 ft face of Big Sleep Dome at Shuteye Ridge in California. It climbs slab and knobs up beautiful Sierra Nevada granite to a summit with beautiful views. Alexa and I climbed this on August 1st, 2020.
Stats:
Difficulty: 5.9 YDS
Number of Pitches: 6 + summit scramble
Route Length: 1,000 feet
Approach Time: 20-30 Minutes
Location: Shuteye Ridge, California
Summit Elevation: 7,969 Feet

Useful Links:
Driving Directions* (Google Maps)
Weather Forecast (Weather.gov)
More Info (Mountain Project)

* Google doesn't show the forest service roads to get here correctly. Don't blindly follow google maps for this one.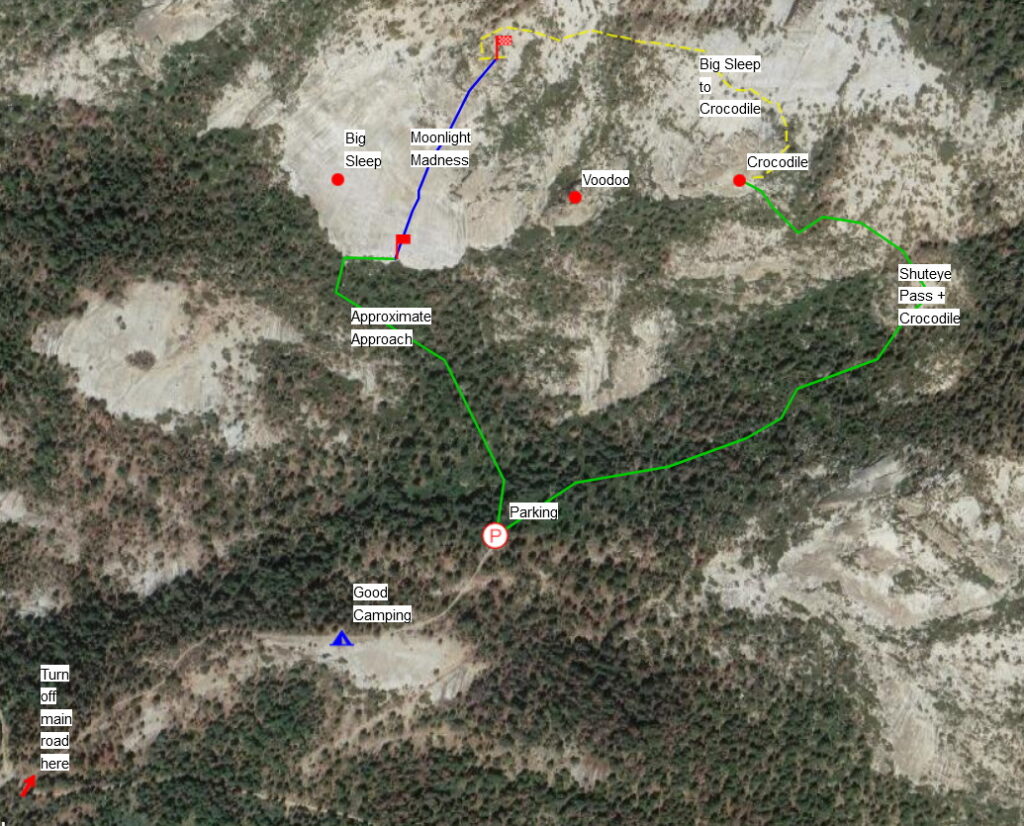 Alexa and I turned off Highway 41 north of Fresno onto N Fork Road. After driving through the town of North Fork, we turned off Minaretes Road (Road 225) onto Cascade Road (Road 223). We followed this until it split 3 ways, taking the left split marked Autum Ridge Way or 8S09. Next we followed Autum Ridge Way all the way until we could see Big Sleep. The road changed names to Whiskey Snowmobile Trails Road at some point, but it was never marked as such. There were several unmarked intersections along the way, but we just kept going straight at all of them. At times, the google directions didn't show the road we were on at all.
Next the road turned south and in the middle of a left-hand curve, we turned left at an easy to miss intersection. We drove past a nice slabby open area with campsites and continued until the road dead ended. There was only space for like 2 or 3 cars to park but thankfully we were the first ones. We racked up and hiked into the forest on a decent climber's path. The trail was mostly easy to follow with nice cairns marking the way at open sections.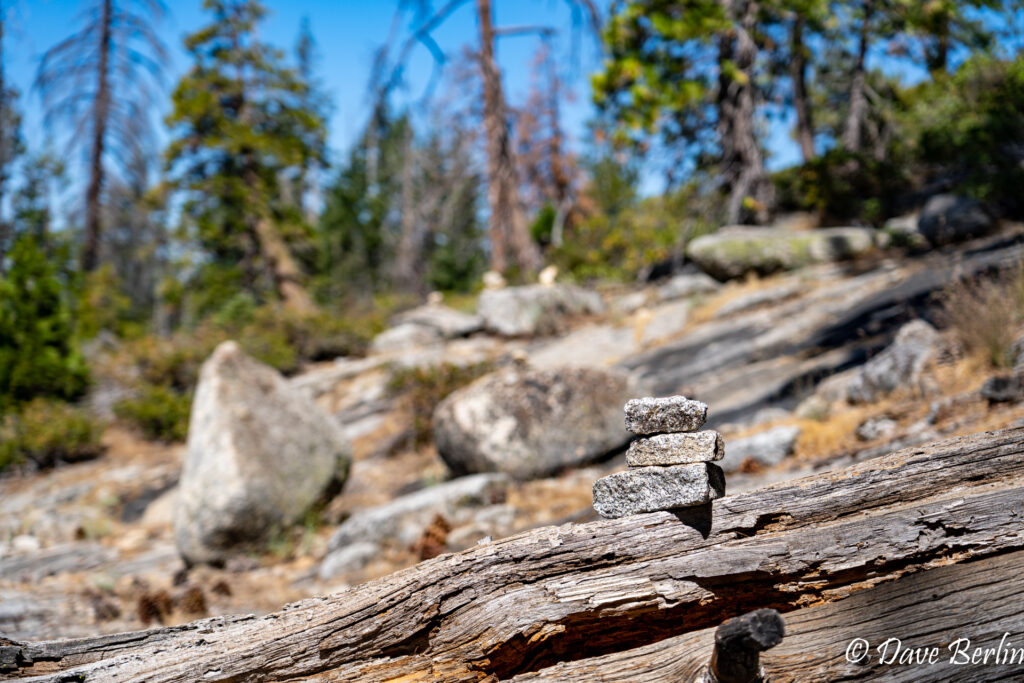 We reached the base of the rock after working up a mild sweat and started traversing climber's right. After a bit of back & forth, we found the start of the route by identifying some subtle but distinctive left facing flakes. There was also a noticeable pillar of rock leaning against the slab just left of the start.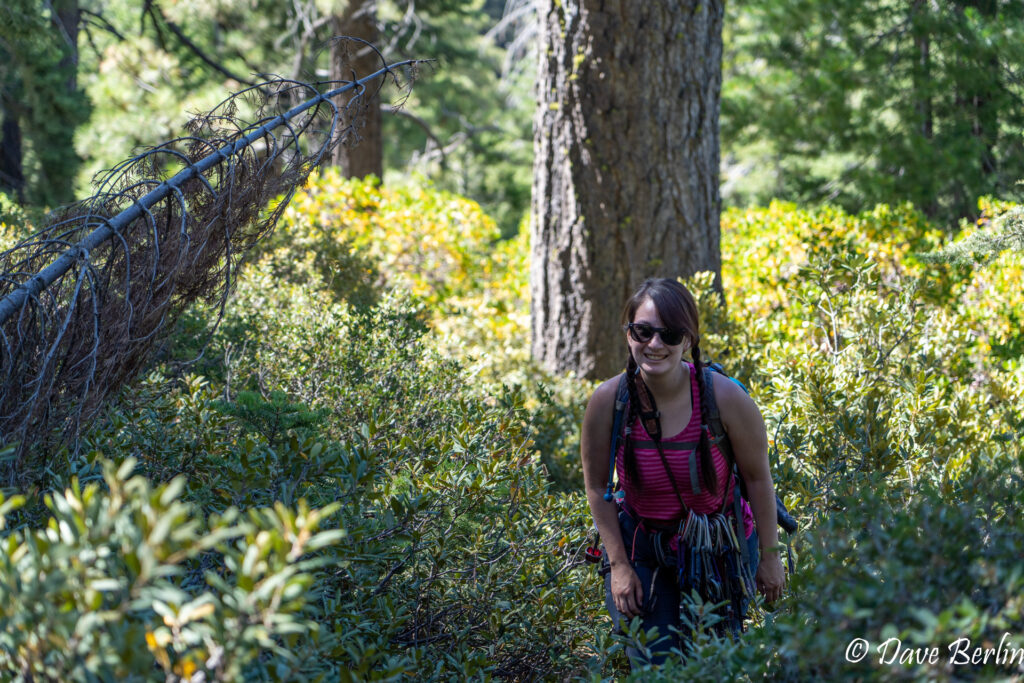 I set off on the first pitch, climbing up to the left facing flakes and fiddling in a small cam. The bolts on the route were hard to see from the ground, but were easier to find once I started climbing.
Initially I was a bit nervous, thinking the the hard climbing could start at any moment. As I continued up the first pitch though, I started to get into a rhythm. The slab had great texture and none of the moves felt very tenuous or committing. After stepping over a slab roof that was the hardest move of the pitch, I started really cruising. The bolts were spaced generously but it never felt scary or runout. Before I knew it I was at a bolted anchor below and right of a tree at the edge of another slab roof.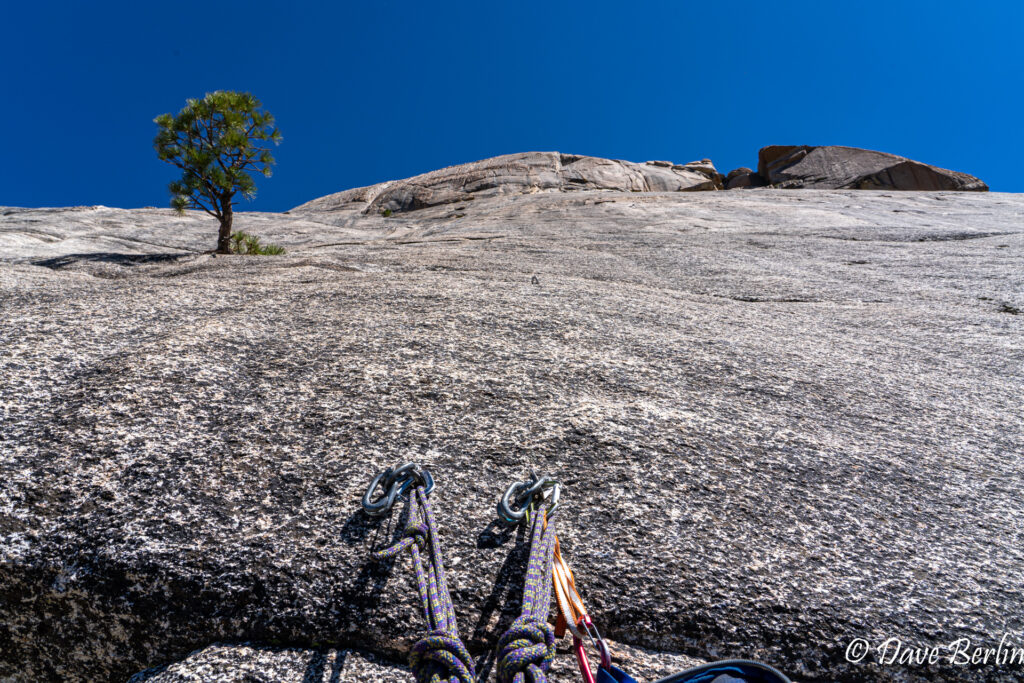 Pitch 2 and 3 both followed bolts up the slab, occasionally crossing over a black & grey water streak. Some cool and exciting moves were near the top of pitch 3, where a dike angles off left but then cuts horizontally to the right and required a careful foot traverse. At the end of the traverse was a good BD .5 (purple) placement that protected the scramble to the end of the pitch.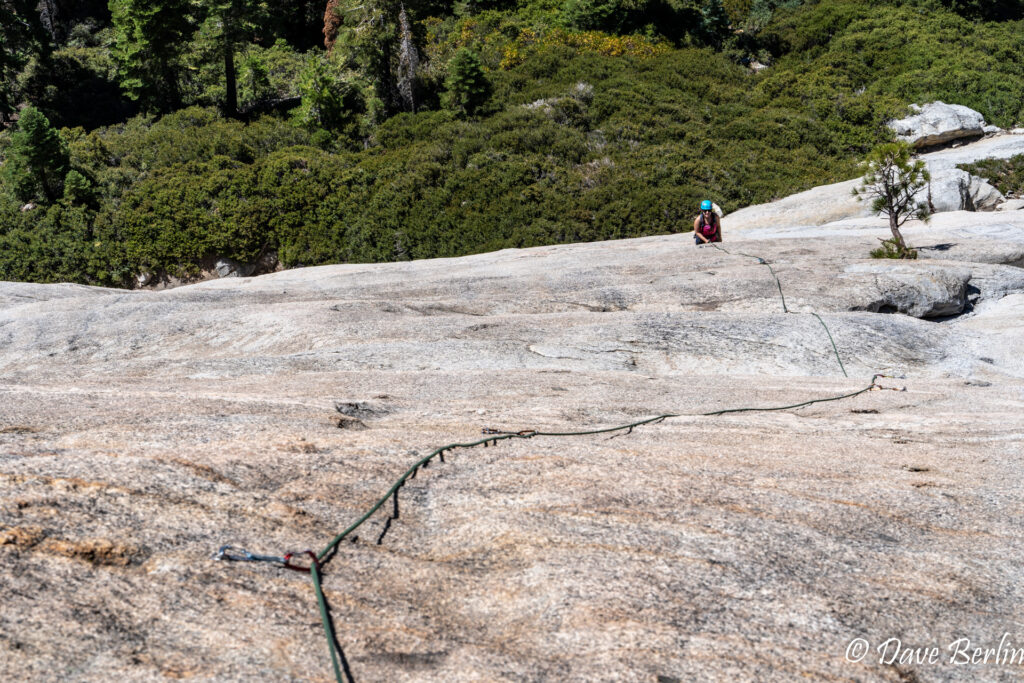 The fourth pitch, the 5.9 crux pitch, started with a slightly committing high foot to get established on a steep and less featured slab below a roof. This section turned out to be the hardest moves on the route. Two bolts before the roof protect the thin slab moves well. When I reached the roof, good holds appeared and the difficulties ended. The roof went easily and above, there was a sea of amazing knobs. Over a hundred feet of cruising up awesome holds, plus a single bolt protecting a section of slightly less giant holds lead me to the anchor.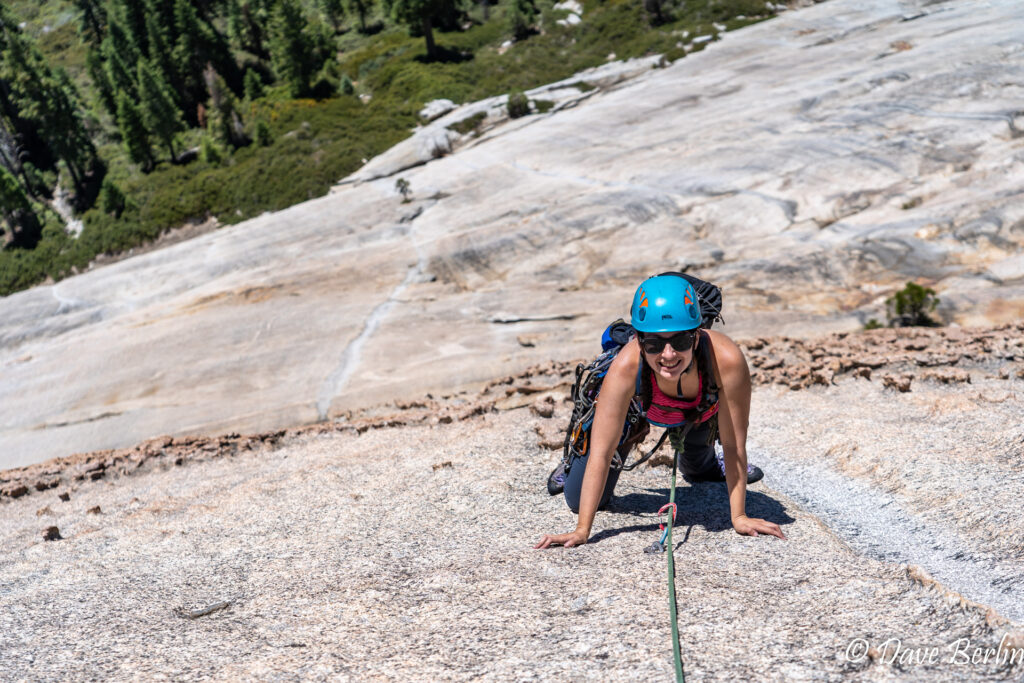 Pitch 5 felt like 3rd/4th class slab walking to me. Alexa and I simul-climbed up more than 70m to reach an area where Big Sleep flattened out. A short 3rd and 4th class scramble lead us to the very tip-top of Big Sleep, which was basically a pile of big rocks with a great view.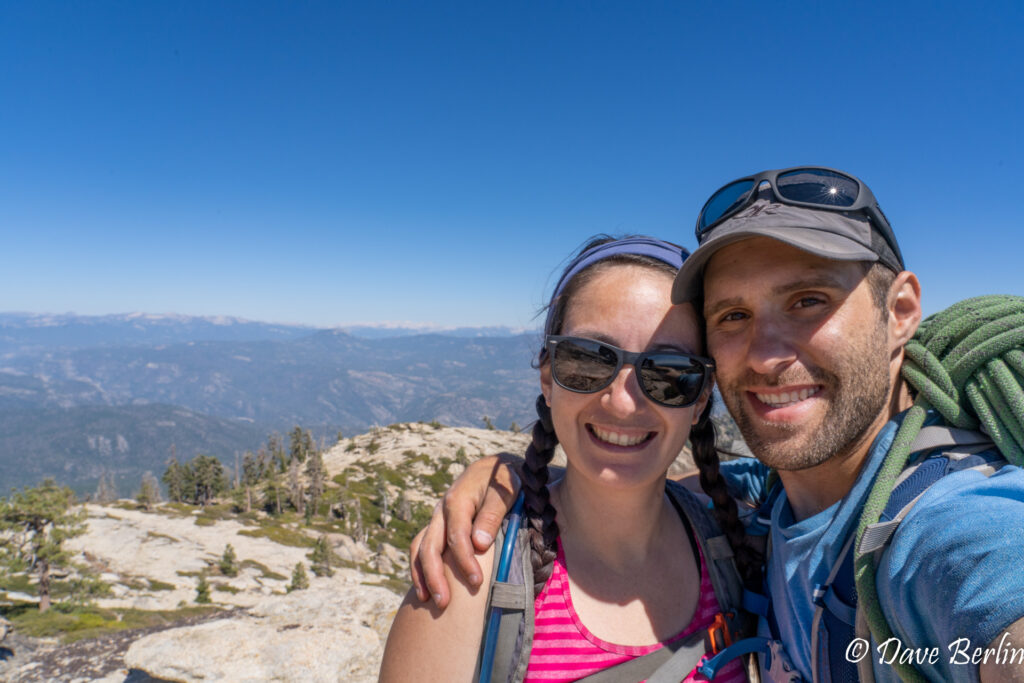 Instead of hiking directly back down to the car, we decided to hike a longer route that would take us past Crocodile Dome (a pretty and steep wall with some great sport routes). If you choose to hike off Big Sleep more directly, a Mountain Project user commented that walking off left was faster and more straightforward than right. Read his beta in the comments here.
From the summit we hiked east down to the saddle between Crocodile Dome and Big Sleep. Then we hiked slightly uphill towards Crocodile and dropped down skiers left of the summit. It was steep and a bit loose, but by carefully choosing our path we avoided anything too sketchy. After descending a ways we traversed skiers right and reached Crocodile Far Right. Using the guidebook we identified the Arrowhead and Born from Revolution climbing routes to confirm we were in the correct spot.
A short scramble and a bit of traversing the wall led us to the Crocodile main wall. We climbed a couple steep sport routes and headed down to the Shuteye Pass trail, which lead us back to the car. It was a great day of climbing and we didn't see a single other person!