Tiger Cage is a single pitch rock climbing crag located at Courtright Reservoir, California. It hosts over a dozen routes on high quality and aesthetic rock. Alexa and I climbed here on July 3rd, 2020.
Scroll to the bottom for annotated route photos / topos.
Disclaimer: Route descriptions and images may have inaccuracies. Climb at your own risk.
Stats:
Route Difficulty: 5.6 – 5.11c YDS
Number of Climbs: 10-20
Route Length: 40-100 Feet
Approach Time: 5-10 Minutes
Location: Courtright Reservoir, Sierra Nevada, California
Elevation: 8,164 Feet

Useful Links:
Driving Directions (Google Maps)
Weather Forecast (Weather.gov)
More Info (Mountain Project)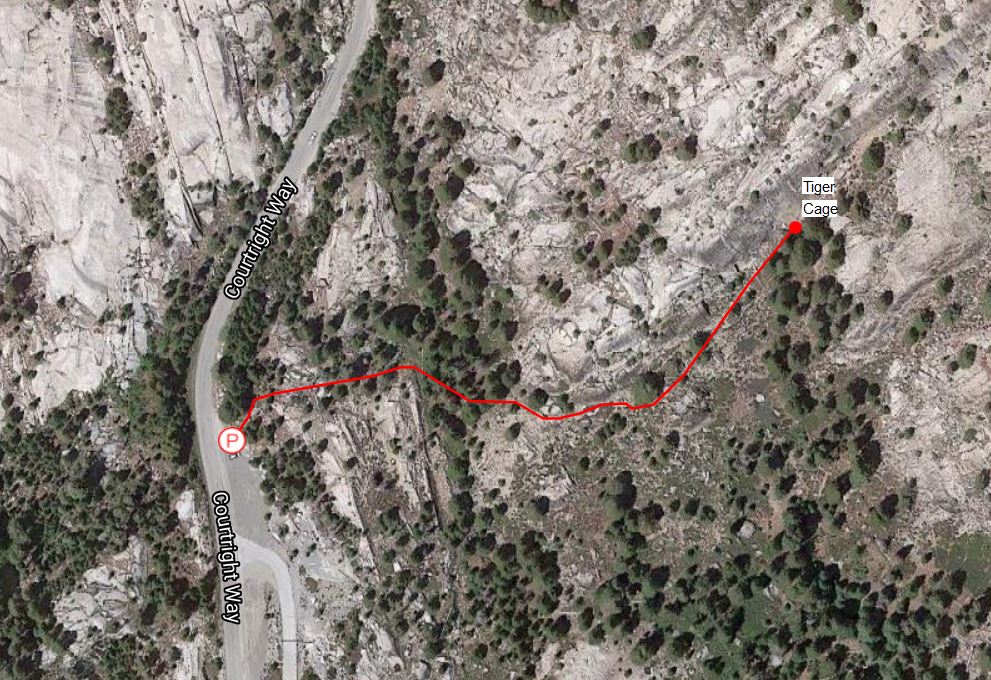 It took me and Alexa approximately 2 hours to make it to Courtright Reservoir from Fresno. The road was very windy but paved the whole way so the drive wasn't too tiring. While there were occasional views, it was mostly through the forest. Arriving at the reservoir, we turned a corner and suddenly were hit with big open views of water and white granite domes. It reminded us of views of Tenaya Lake in Yosemite. Spectacular!
We backtracked from the reservoir slightly to reach an obvious large pullout on the east side of the road and parked. A short approach trail leaves from the north side of this pullout. The trail was faint and a little inobvious, but it's there if you you look for it.
Once we got oriented we decided to start on a nice 5.6 warm-up crack (Unknown 5.6 Hand Crack on Mountain Project). The crack wasn't as super-duper-easy as it looked from the ground. The crack bottomed out at sections, making it harder to jam and requiring better footwork instead. This meant it was actually a pretty good warmup for some of the slabbier routes on the wall.
Also surprisingly, there was a snake in the crack! I took a crappy picture with my cell phone. I looked it up later and I think it's a young Rubber Boa. Cool but kind of creepy too! Thankfully I could tell it wasn't a dangerous snake so we tried not to disturb it too much and kept climbing.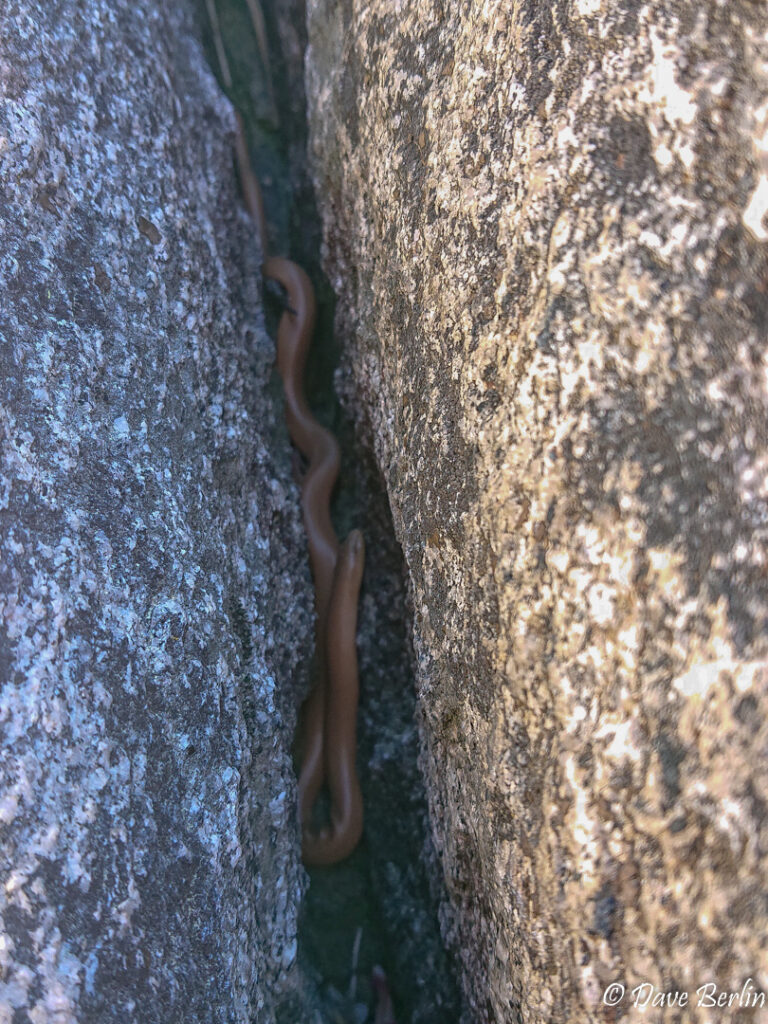 After that we walked to the left side of Tiger Cage and climbed a 5.8 called Flintstone Feet. There was a direct start on aesthetic and clean rock, but I didn't realize this. I started up a dirty slab/corner to a dirty wide hands/fist crack. It wasn't very pleasant. Definitely climb the direct slab start. Once past the crack, I met up with the direct start and finished the route on a very nice slab with almost nothing for hands. The great climbing up top almost made the gross bottom worth it.
Thoroughly warmed up, we moved onto the main event, or at least it seemed like one of the more obvious nice lines to climb at the wall: Eye of the Tiger. This route climbed up clean orange/tan rock with a mix of crack and face climbing. I was a little nervous about leading this one because the spacing between the first and second bolts was quite generous. Thankfully, the climbing was pretty easy between them with just enough decent holds.
Alexa followed and cleaned the gear. Once the cams/bolts were cleaned, Kayla and Molly top-roped it, each improvising on the route a bit and not climbing it exactly as I did on lead. That's part of the fun of top-roping.
We cleaned the rope off Eye of the Tiger and moved up the hill towards the right side of the wall. One thing to note about Tiger Cage is that many of the routes didn't have quick links or rap rings for rappelling off routes. The easiest way to deal with this was to walk off to the climbers left side of the wall. It was an easy hike down/around. This also enables easy access for setting up top ropes for most routes.
Next I led The Offwidth, which Mountain Project says is 5.9, but the new Courtright Reservoir guidebook says 5.10c. That's a big difference! Here's my guess why: If you use the big boulder/flake on the left to stem and get as high as possible without climbing the offwidth directly, you skip a bunch of the hard moves. This way, you only need to make like a foot or two of upward progress in the offwidth before you can get a hand jam. If you climb the offwidth directly without stemming, you have a bunch more pure offwidth moves and it makes the climb feel much harder. Maybe not 5.10c (it was easier than Generator Crack in Yosemite), but it felt harder than 5.9 climbing it that way.
After destroying my knees in the offwidth, Molly setup a top rope on Tiger Tiers 5.9 and we all had a go. Tiger Tiers was fun and would probably make a good lead for someone pushing into 5.9. It had good gear and good rests between harder sections.
We moved the top rope over climbers left to This Pussy Eats You. This climb was a good challenge for everyone to climb. By far the hardest part was the direct start. There was a nice ramp that traversed in from the right that can be used to skip the hardest moves at the start. The other crux section was near the top, where the finger jams and feet got worse and there was a steep section. Overall it was a fun and challenging route. I didn't lead it but it looked like it had the potential for very good gear overall.
After the 5.10b, we packed up our climbing gear and went exploring. We hiked up climbers right (north east) and got a great view of the dam, the reservoir, Power Dome and some of the domes beyond. There was even a person rope soloing Power Dome. They had ropes stretching all the way from the top to the bottom of the massive dome.
Next we explored and ended up at the Cliff Lake Trailhead, which had a bunch of chipmunks running around. I tried my best to get a few pictures but it was hard. They were so quick!
Although we had only done a few climbs, we still had a good tiring day. The offwidth especially tired me out. We started the drive home but we made a point to stop at the McKinley Grove on the way back to Fresno. Beautiful Giant Sequoia trees with a nice short walking loop. Seeing something that has been alive for hundreds or thousands of years reminds me that my problems in life really aren't all that significant.
Topos
Here are a few pictures I marked up that show some of the climbs at Tiger Cage. Feel free to download them to your phone or print them out.