Lemosho is a route for climbing Kilimanjaro, the highest peak in Africa at 19,341 ft. The route has beautiful scenery and a high success rate. Alexa and I hiked this route over 8 days starting in January 2020.
Stats:
Location: Mount Kilimanjaro National Park – Tanzania, Africa
Mileage: 39.7 Miles Total
Elevation Gain: 15,411 Feet Cumulative
Summit Elevation: 19,341 Feet

Useful Links:
My Packing List for Kilimanjaro
Kilimanjaro Weather Forecast (Mountain-forecast.com)
Kilimanjaro Porters Assistance Project (Kiliporters.org)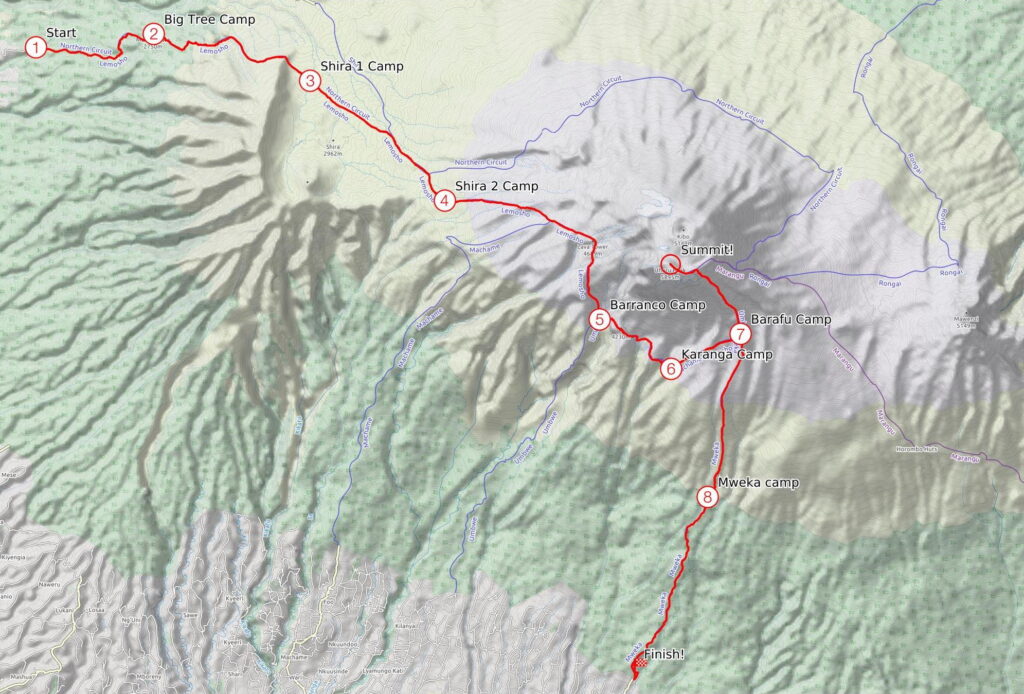 View Trail Map On CalTopo.com
Download Trail Map PDF
Getting There
Getting to Kilimanjaro International Airport from Seattle was actually pretty easy, although long. Seattle to Amsterdam and Amsterdam to Kilimanjaro for a total of 2 flights and 20h:16m trip time. On the first flight we got to see the northern lights as we flew over the southern tip of Greenland in the middle of the night. Beautiful!
It took a while to get everyone through Tanzania immigration, especially since the power kept going on-and-off, resetting the computer systems each time. Despite this, the process was quick and easy once we finally made it to the window. We booked a private climb through Gladys Adventure, so one of their drivers picked us up from the airport. He drove us to the Leopard Hotel in Moshi, where we eagerly turned on the A/C and got in bed for the night.
We planned the trip to have a full day to recover after the flight. I'm glad we did this because the 11 hour time difference was difficult to adjust to. Additionally, it gave us time to go out into Moshi and experience Tanzania a little more. This was our first time in Africa so just exiting the hotel for lunch was an adventure outside our comfort zones. Once back in the hotel, we packed for the climb and relaxed. I loved looking out the window to watch and listen to all the Little Swifts swarming around Moshi.
Day 1 – Start to Big Tree Camp
Our driver and guides picked us up the next day to get started on the climb. We stopped at Gladys Adventure to drop off superfluous gear and valuables, which they kept labeled and locked in a safe. From there were on our way towards the Londorosi Gate and the start of the route.
We gazed out the window of the van, hoping to catch a glimpse of the Kilimanjaro. In the distance we could see the huge broad slopes heading up into dark rain clouds where the mountain was supposed to be. The landscape closer by was vibrant green agricultural fields and open slopes covered in short native vegetation. As we wound our way up the western slope of Kilimanjaro, we passed coffee, banana, and carrot plantations. We saw people working fields with large piles of bright orange carrots that had been picked. It felt strange to be transported to a place with such a different lifestyle and culture than the one I've lived my whole life.
After an hour or two we made it to the Londorosi Gate, where we met up with the porters and they had their bags weighed to make sure they weren't carrying too much. On the final drive from the gate to the start of the route we transitioned into the rain forest. Everything got more and more lush and of course, it started to rain. By the time we reached the start of the route it was pouring. Thankfully, there were a couple large canopy tents setup where various groups of clients and porters finished packing up and ate some snacks.
The trail started sharply uphill right away, but we went slowly and it didn't feel very difficult. I immediately started looking around for any wildlife while enjoying the beauty of the dense rain forest foliage and deep brown trail. Eventually I was rewarded with the sight of a couple black-and-white colobus monkeys in tree. Their luxurious long white tails make them possible to spot, but they are still easy to miss if they're not moving around.
We took a couple short breaks to drink water and adjust rain layers and then suddenly, we crested the top of a hill and were at the first camp. We knew the first day wasn't very long, but it still surprised us when we got to camp. Mti Mkubwa Aka Big Tree Camp was a slightly muddy large flat area at the top of a ridge with beautiful large trees interspersed. Shortly after arrival, there was some commotion when a large blue monkey stole some bread from one of they porters packs. So yeah, watch out for the monkeys! After this we didn't see any monkeys around except for a short glimpse high in the trees the next morning.
Day 2 – Big Tree to Shira 1
After breakfast the next morning we set off into the rain forest again. There was only sporadic light rain so I was able to keep the camera out more. We saw a larger group of black-and-white colobus monkeys that were slightly more active than the pair in the rain the day before.
After about an hour of hiking the rain forest started to thin and transitioned to heather / moorland. This is a large zone with heather, shrubs, and grasses that vary in height from inches to as much as 30 feet. Most of the vegetation was head height and shorter, which made for expansive views.
After a short downhill into a beautiful valley and a break spot at a saddle, we started on a long uphill up a ridge that provided grand views NW down into the plains. The ever-present clouds prevented us from ever getting a very clear view though. Eventually the ridge dissolved but the uphill continued as we traversed onto the broad Shira Ridge. The rain started up again for us here and continued as we rounded the ridge and descended onto the Shira Plateau. The trail on the plateau cut tracks through the short heather and bushes that filled with water and mud. Thankfully there were many stepping stones to hop across and avoid the worst of the muddy and waterlogged sections.
After about 6 hours of hiking we made it to Shira 1 camp in the vast Shira Plateau. We still had plenty of daylight to relax and explore camp. The mountain even came out from the clouds a little!
Now would probably be a good time to talk about our team and the camp setup. As a private trip, Alexa and I were the only two clients. For the two of us we had a guide, an assistant guide, a waiter, cook, tent master, toilet attendant, and 7 porters. We never really got used to having such a large group of people dedicated to us since most of the time Alexa and I are independent and self sufficient on trips.
We were fed breakfast, lunch, and dinner each day. In the morning our waiter woke us up and brought us hot tea (or the beverage of our choice). Before each meal he brought us a bowl of warm water to wash our hands with. We had a tent to sleep/relax in, one to eat in, and one to do bathroom business in (with a portable toilet). There was also a tent for the guides and a tent for the porters/cooking. Each meal had multiple courses, always starting with delicious fresh fruit.
We felt very well taken care of on the climb, and some aspects of it were downright luxurious (fresh fruit and a private toilet!?). It might seem like a pampered trip with any difficulties and discomfort removed but it wasn't really. Even with a team of 13 supporting us, just being up there and hiking with our day packs through the rain at high elevation was tough. The help from the team and the amenities they provided gave us enough comfort on the mountain to enable us to really enjoy the experience. Without all this, the experience could have been downright miserable.
Day 3 – Shira 1 to Shira 2
Shira 1 to Shira 2 was a straightforward hike across the plateau with a little bit of elevation gain. It was on-and-off rainy throughout the morning. We were thankful to get a peek at the mountain as we set off.
One of my favorite places of the day was at the junction of Lemosho and the Shira routes. There were blooming flowers and little birds scattered around with a creek running nearby. We took a short break here before continuing on. We made it to camp and after lunch we went for a short acclimatization hike. It was cloudy so I didn't bring my camera, but of course the clouds cleared a bit at the end, giving a nice view down slope towards the plains. Always keep your camera with you!
Day 4 – Shira 2 to Barranco
Day 4 was the second longest day, with only the summit day being longer. We started a little earlier than previous days and were thrilled to have a bit of sunshine with some views of Kilimanjaro and Mt Meru.
As we hiked on we started to leave the moorland and transition into the alpine desert. Plant life started to get more scarce and smaller. Lichen hung off the volcanic rocks in the mist giving them an ominous look like strange creatures.
Right around the highest elevation in the continental US (14,505 ft) it started to rain. This was the hardest rain yet, and we were in it as we climbed higher than ever before. Mini rivers formed, flowing down the trail and carving gullies out.
The rain continued but eventually we made it to Lava Tower. Amazingly, our team had set up our dining and toilet tents so we were able to take a break and eat lunch sheltered from the rain.
After lunch at Lava Tower we started down to Barranco Camp. It rained almost the entire way. As we descended, we transitioned from alpine desert into the odd forest of giant groundsel (senecio kilimanjari) and giant lobelia (lobelia deckenii) that made the Barranco Valley really beautiful and weird. We made camp and relaxed in camp to recover from the high elevation earlier in the day.
Day 5 – Barranco to Karanga
The next day we got to start the day with the Barranco wall, aka the breakfast wall. It's a steep, semi-scrambly steep climb out of the Barranco valley. As we approached the wall, we could already see the multi-colored line of people slowly inching up the trail. As the most technical part of the route, I was excited.
We quickly caught up to the back of the line, which we discovered was bottle-necked at a few short sections where you have to do scrambly moves with a little bit of exposure. With our experience rock climbing and scrambling Alexa and I had no trouble with these sections. Even if you don't have any climbing experience, if you've made it this far on the trek you should be able to get through it. Just go slow and ask your guide to coach you if necessary.
After the Barranco wall was a steady climb until a high point a hundred or so feet shy of 14,000 ft. Just before the top were a couple more scrambly moves. I actually thought these moves were slightly more difficult than those lower down. The trail was much less crowded at this point though so it was a lower pressure situation.
After the high point the trail trended downwards traversing the southern slopes of Kilimanjaro. The views looking up and down in these section were probably very dramatic, with cliffs and glaciers high above. Sadly, we were in the clouds and didn't see too much.
The last obstacle before camp was descending and climbing back out of the Karanaga Valley. This valley was very beautiful and green, full of lobelia and senecio with a river running through. Unfortunately, it was raining pretty good by the time we got to the valley so we didn't get to take pictures or enjoy it very much.
Karanga camp was on a windswept ridge with patches of grass and short alpine plants. After lunch at camp the clouds started to lift and we got some great views of Kili, still feeling far away.
Day 6 – Karanga to Barafu
Day 6 was a couple miles of steady climbing from Karanga up a broad ridge to Barafu camp. Part of the way up we left most of the vegetation behind and fully entered the alpine desert. Very little can grow above a certain point.
We were very excited to make it to Barafu, the highest place we have ever camped at. We were also thrilled to be out of the clouds and getting some sun (the top of the mountain was still hiding though). We settled in at camp to rest up for summit day, spending time watching the Alpine Swifts, enjoying the scenery, and relaxing in the tent. Though the air was cool, the tent was positively sweltering at times with the sun beating down.
Day 7 – Barafu to Summit to Mweka
We woke up at 11:30pm, packed our backpacks, and bundled up for the long day ahead. Setting off we could already see lines of headlamps heading up the slopes ahead. It's difficult to recall too many details of the trail, since hiking in the middle of the night in a headlamp bubble makes everything pretty hazy. I do remember that I started out way too warm. With all of my layers on and no wind I had to unzip all my top layers to keep from sweating like crazy. When we got a bit higher the wind picked up and I got more comfortable. It wasn't snowing but the wind was blowing snow crystals around that added to the chill factor.
We went slowly, but we still passed some of the larger groups that were going even slower. The night felt long and in the dark it was impossible to tell how much time or distance had passed. Hours went by, slowly switch backing up the steep slopes. Finally the sky started to brighten the a bit. We looked up and could see the headlamps of climbers traversing the crater rim from Gilman's Point. We were close.
Another half an hour later (or maybe 2 minutes, who knows?) we crested the crater rim and had reached Stella point. The sun was up and I felt a combination of excitement and fatigue. Mostly excitement though because we were less than a mile from the summit.
As we made the last 100 yard walk towards the summit sign, I wanted to cry. I felt a wave of relief wash over me. It was a huge release tension that I didn't realize had been building since the beginning of the trip. Having spent 7 days hiking, pacing and going slowly while making sure we hydrated and ate enough, I was overwhelmingly relieved to have reached the summit. Any fear or stress of not making it melted away.
After some hugs and a few pictures on top we started down. We were in the clouds so there wasn't much reason to hang around. As we neared Stella Point again, the clouds lowered and we started to see the incredible landscape around us. I was a little disappointed there were still clouds filling the crater and we didn't get to see in, but what can you do?
Since our ascent, the frozen scree that made up the trail had softened, which cushioned our knees a bit on the way down. There were a few sections that could be "scree surfed" down if you have the balance and energy for it.
When we made it back to camp we had juice waiting for us and our team sang us a quick song. We were all smiles but we desperately wanted to just lie down in the tent. Having climbed through the night we were exhausted, and we still had a long descent to go.
After a short rest in the tent, we packed up and started down from Barafu on the Mweka trail. Mweka is an amazing but brutal trail. It heads straight downhill from Barafu for almost 10 miles, losing about 10,000 feet of elevation in that distance.
Initially from Barafu it is a reasonable downhill grade that made for easy descending, but at certain point it transitioned to broad steps that pummeled our knees for thousands of feet. Honestly, this might have been the hardest part of the entire climb. The endless downhill stairs and rocks from Barafu to Mweka camp. From the summit to Mweka camp we lost 9,200 feet of elevation. That's brutal on the knees however you slice it.
Note that there was the option to stop early at Millenium Camp, saving ourselves 2,500 feet of descending on summit day. Our guides encouraged us to push for Mweka because the more we descended after the summit, the more we would alleviate any altitude symptoms that may or may not have come up.
Day 8 – Mweka to the Finish
During dinner the day before our head guide had given us a tipping sheet. This sheet was a very nice touch that Gladys Adventure added that took a lot of the stress out of the tipping process. We had read about the process and I was a bit apprehensive about it. The tipping sheet had on it the names each team member and their duties (chef, porter, etc.). It also had a short paragraph that gave guidelines on how much to tip each person. I really liked this since it gave us some actual numbers to choose from. Since the guides and porters knew about the sheet, they also knew the amount that they could reasonably expect. W chose to tip the high end of the range for each person since we could afford it and we figured that that extra money could positively impact the porters lives more than our own lives. A dollar in Tanzania goes farther than it does in the United States.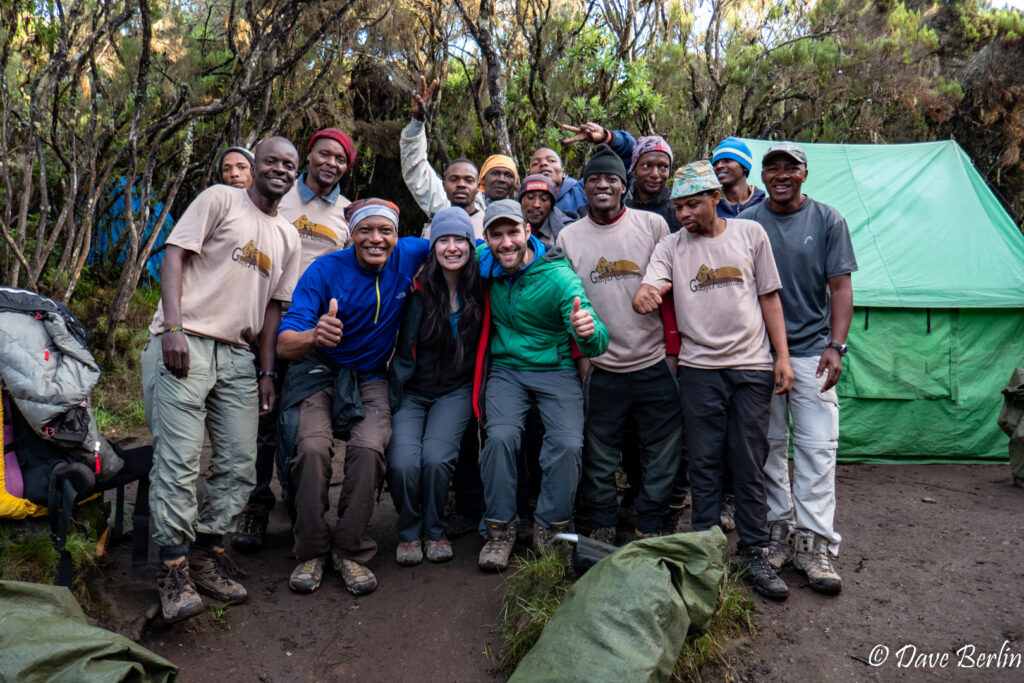 The team sang us a few fun songs with big smiles and we all packed up and headed down the trail. With a night of sleep at a lower elevation camp Alexa and I were able to recover a bit from the summit day. That was a good thing because the knee pounding stairs and rocks of Mweka continued. As we descended, we traveled through a long transition between moorland and rain forest. The bushes of the moorland got taller until they formed a forest high over our heads. Descending more jungle trees and vines mixed in with this moorland forest and slowly started to take over until the moorland plants were left behind.
The band of rain forest we were passing through on Mweka was much wider than the band we passed through on the first day of the trip. It seemed even more lush than the first, with every nook and cranny filled with greenery. We saw a group of blue monkeys foraging for food and a group of black-and-white colobus monkeys with babies going high over the trail from tree to tree. We were still tired and ready to be off the mountain, but the rain forest was a beautiful area full of life that would have been wonderful to spend more time in.
Eventually we made it down to where the stairs and the trail ended and we walked on a smooth dirt road used for rescue vehicles until the finish. At the finish line we took a picture, paid a small amount to get our boots washed off (highly recommended since they will probably be caked in mud), and got in the van for the trip back to town.
When we got back to town, we had the rest of the day to relax and recover in the hotel room. We were pooped but full of good feeling having accomplished our goal. The next morning from the hotel we were treated to a beautiful sunrise and views of Kilimanjaro, the highest peak in Africa.